Together with the Stand-ON Floor you can integrate the Stand-ON Cubes. De strong aluminium cubes fit inside the basic tiles and are fixated by this. You can stack the cubes indefinitely. Stand-ON Cubes are produced 50 x 50 cm, 50 x 100 cm and 100 x 100 cm. The visual height is 10 cm.
STACKABLE CUBES
SURPRISINGLY BEAUTIFUL
Direct print & stackable
You cover your cubes with the same top covers as we provide with the floor. For loading heavy products on your cubes, you have to put a wooden panel on the top. It fits perfect in the edge of the profile. You are still able to cover it with the design collection of our cover plates. The Stand-ON cubes can be stacked on top of each other. The basic visual height per cube is 10 cm. You can design your cubes using, one, two or three or as many as you like.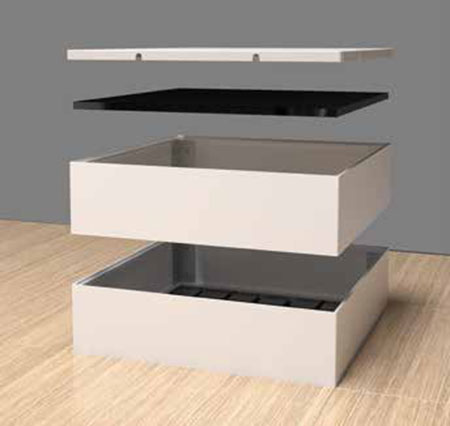 10 mm thick acrylic panel against bending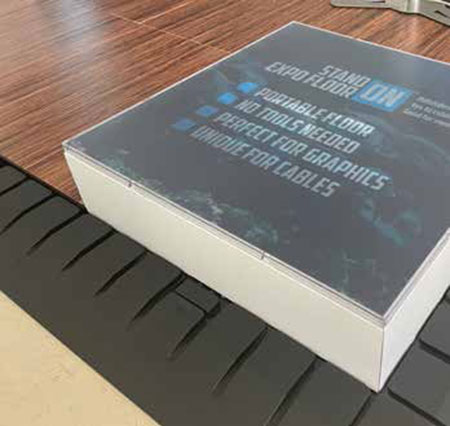 Cubes can be covered with the Stand-ON printed tiles or with the clear cover plates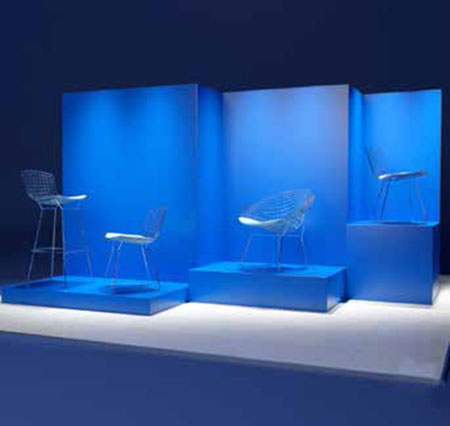 Stand-ON Cubes made in 50 x 50 cm, 50 x 100 cm, and 100 x 100 cm
STAND ON CUBES
ENDLESS POSSIBILITIES
Endless possibilities
The Stand-ON Cubes offer the flexibility to be placed in different configurations. The cubes can be vertically and horizontally stacked, enabling to create an ideal presentation that meets all your needs. The setup can be easily altered as frequently as desired, providing maximum adaptability.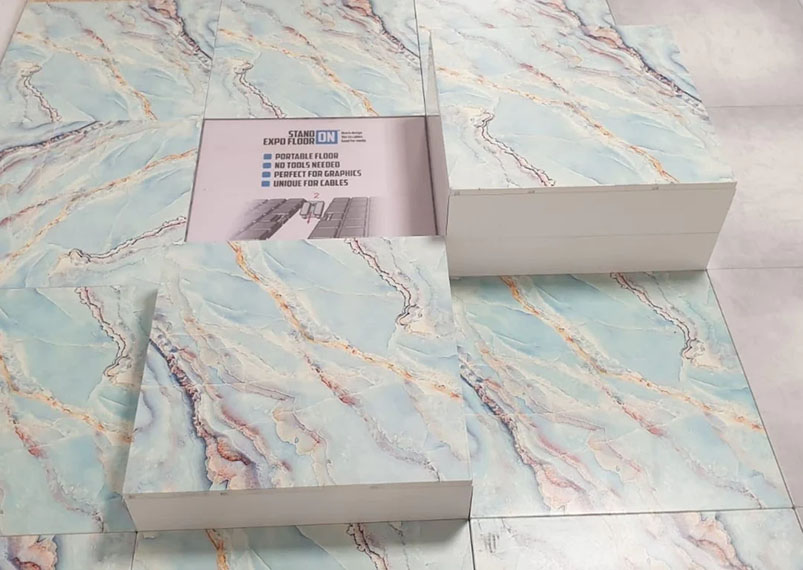 STAND ON CUBES
ATTRACTING ATTENTION
High quality
The Stand-ON Cubes are fabricated using high-quality aluminum extrusion profiles that lend to their durability and sturdiness. To ensure the cubes remain securely fastened, solid connectors have been integrated into the corners. These connectors have been thoughtfully designed to feature screws that can be tightened by hand, allowing hassle-free setup and disassembly. This design also facilitates easy and compact storage and transportation of the cubes.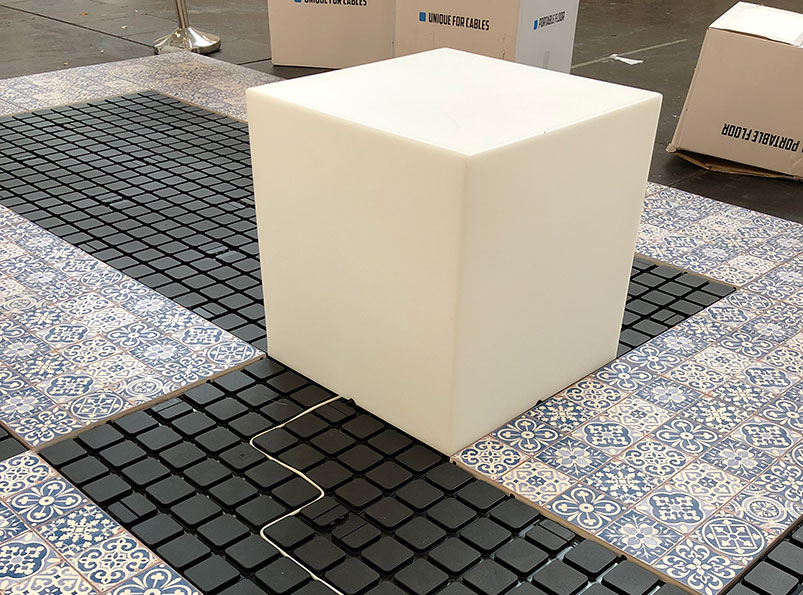 1. How high can the cubes being stacked?
You can put the cubes on top of each other up to 3 or 4 meters.
2. How heavy can you load the cubes?
De loadable weight depends on the top plate. You can put a heavy load of 10kg on a printed tile, but with a 10 mm thick acrylic panel, you can walk on the cubes.
3. What is the best use of the cubes?
In fact everywhere where a beautiful and temporary, or regularly changing presentation is needed. This can be a at traid fairs, but also in shops, offices, showrooms and shop windows.
4. Are other cubes also available?
Yes we can als supply cubes that are open on 1 or 2 sides. This way you can make beautiful counters and cabinets.
5. How durable are the cubes?
Our cubes are made of aluminum and do not become static, so they attract less dust. In addition the cubes are easy to clean with any cleaning agent.
6. How quickly can the Stand-ON Cubes be delivered?
The cubes are shipped directly from our warehouse and delivered to you on an average between two and 4 weeks.